Interpreting
As an experienced interpreter, I charge the going market rates of between £300 – £600 a day for my services although most assignments are considered on an individual basis. I am voluntarily registered for VAT so my fees are inclusive of VAT.
I want to be able to help as many clients as possible so I do charge for cancellation if an event does not go ahead. Therefore it is important to be sure that your event is confirmed before booking so that you avoid unnecessary costs.
Should you wish to hire the services of both myself and another interpreter, I can arrange this. Naturally, the fees would reflect the cost of hiring two interpreters.
Not every event has its own specialist equipment, so I can also assist with hiring interpreting equipment (Sennheiser or Williams tour guide equipment or interpreting booths). The audio hire company that I use is reliable and offers very competitive prices which I pass on to event organisers.
Please contact me if you have any questions. I understand that not everybody is familiar with how professional interpreters work and I am always happy to chat with potential clients before booking an event.
Translation
Fees for professional translations vary according to the subject matter of a text, as well as much technical detail it contains. I tend to charge lower fees for documents of a general nature, whereas legal, medical or other technical, specialist texts are charged at higher rates to reflect the additional skill involved.
I charge on the basis of every thousand (1000) words written in Spanish or French (the source language).
Something to consider is the condition of the original document because poor legibility may present problems. Avoid photocopying a photocopy, for example. Scans and photocopies of the original documents are preferable. On some rare occasions, I may need sight of the original.
I can format the translation for you so that it looks as close as possible to the original document though this may have an additional cost attached. Modern translation software means that formatting issues are less of a problem but only if you send the original document to me in Word format.
Depending on the above factors, your translation fee is likely to be between £60 to £90 per 1,000 words plus VAT though this can vary.  The best thing to do is to contact me to discuss the details and get a price that you are happy with.
Tourism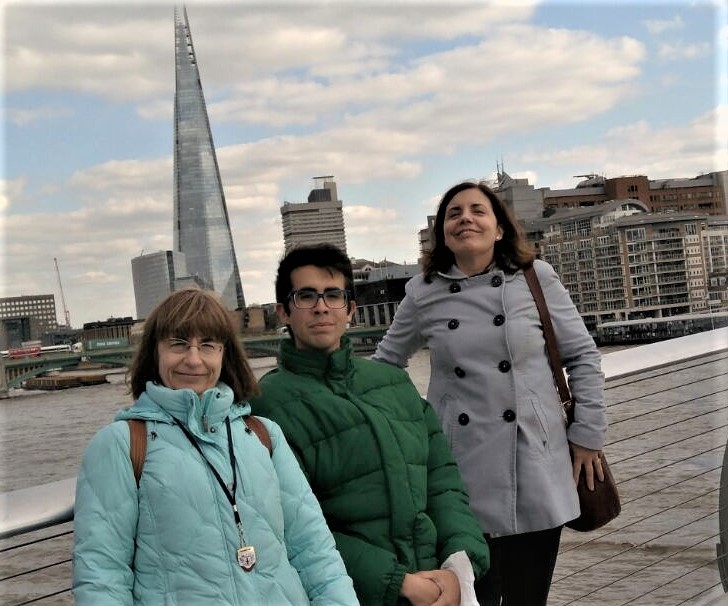 My fee for tours of the City of London reflects the reconnaissance of the route that I perform before giving the tour plus my guiding time. A lot of people like to round off a tour at a pub or restaurant of some renown and I can organise this for you as part of my services on request. However, due to the pandemic and the need for social distancing, we would have to discuss the logistics of this. At the moment, the UK Government will only allow me to guide a group of five people.
I charge a flat rate of £100-150 plus VAT so the more people you can bring with you on the tour, the lower the cost is for each individual. Ideally, when COVID-19 is not an issue, I like to work with a group of ten people.
This photo makes me look like I am wearing the Shard on my head but I love it because it was a very happy and fun tour!